BlackFriday
From xat wiki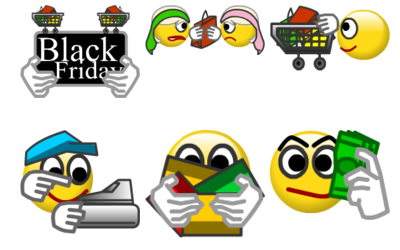 (BLACKFRIDAY) - BlackFriday tematyczne emotki OGRANICZONY
BlackFriday to moc która reprezentuje dzień "Black Friday" (następnego dnia po Dziękczynienia) i sprzedawcy detaliczni mogą oferować sprzedaż promocyjną. BlackFriday jest zazwyczaj, choć nie zawsze, używana jako sztuczka dla xat's Black Friday umowę.
Znajdź informacje o ofertach xat's Black Friday wymienionych poniżej.
2020
A series of five ID auctions were held in November 2020, which included the release of the ID 2021. xat also held power auctions for the powers Aprincess, Big and Boot. Five rare powers were also released in store: Summerhug, Kdemon, Angry, Instruments and Spacewar.
On 26 November 2020, the test power 613 was given out to a random selection of xat subscribers for free. This test power became Trader, which was released to celebrate the trading community of xat.
2019
Moc Blacksale została uwolniona w sklepie. xat był również gospodarzem aukcji mocy dla takich mocy Big, Blastde, Angry, Boot, Angel, Fairy, Clear, Valentine, Christmas, Redcard, Ruby, Namewave i Gback. Ponadto, promocje na czatach i banerach czatowych były objęte 75% zniżką.
2018
Zespół xatTrade zorganizował duży upominek w dniach 23 i 24 Listopada 2018, sponsorowany przez administratorów xat. Ponad 150,000 xatów zostało rozdanych w nagrodach podzielonych z czterema czatami.
2017
W 2017 roku, było 75% zniżki na promocję czatów. 1000 Fitness moce zostało zwolnionych za połowę ich pierwotnej ceny.
2016
W 2016 roku z okazji Black Friday, oferta została dodana do strony "Kup XATS i dzień", które pozwalają ubiegać się o bezpłatne uprawnienia w zależności od pakietu, który został zakupiony.
Kilka ograniczone uprawnienia zostały również dopuszczone do niższej cenie w losowych odstępach czasu, które zostały ogłoszone przez tweet za każdym razem na xat's twitter.
Jak to działa?
Użytkownicy mieli zastrzeżenia swój wolny zasilanie [$link1 this page] po tym, jak kupił XATS i dni pakiet.
2015
Z okazji 2015 Black Friday,będzie 50% zniżki na uprawnienia do wybranej liczby użytkowników xat.
Jak to działa
Jak dotąd 32,000 użytkowników zostały wybrane losowo, aby uzyskać uprawnienia za pół ceny.
Postępuj xat's twitter aby sprawdzić, kiedy nowa seria zniżek zostanie zwolniony.
Uwagi
Powersy Czarny piątek będzie użyteczny na aukcjach.
Emotki