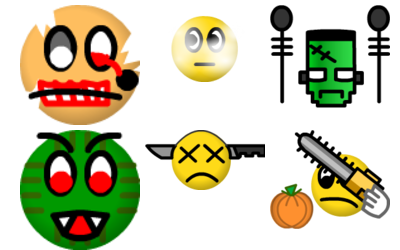 (HORROR) - Horror Flix LIMITADO
El power Horror te permite añadir flix (fondos animados) a tu chat.
The more powers assigned, the more flixes you unlock, some of which have options.
1 power = SKELETON flix
2 powers = EYES flix

Options: 0-3 for different eyes.

4 powers = CAULDRON flix
8 powers = WITCH flix
16 powers = BLOOD flix
32 powers = HALLOWEEN flix

Options: 1 for no pumpkin in the flix.
This power also comes with 6 backgrounds that can be used.
Flix previews
Mira la pagina Flix para detalles y cambios de configuraciones en Flix.
Nota:Tenga en cuenta que el antiguo (horror) es ahora (aghast).
Smilies
Smilies