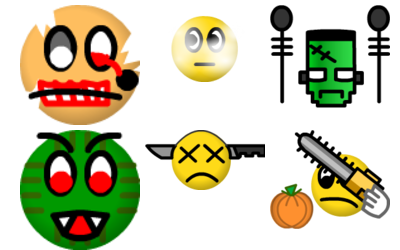 (HORROR)
-
Horror
Flix
LIMITADO
El power Horror te permite añadir flix (fondos animados) a tu chat.
Mientras más powers asignados tengas, más flixes se desbloquean.
1 power = Flix deEsqueleto
2 powers = Flix de Ojos

Opciones: 0-3 para ojos diferentes.

4 powers = Flix de Caldera
8 powers = Flix de Bruja
16 powers = Flix de Sangre
32 powers = Flix de Halloween

Opciones: 1 para quitar la calabaza.
This power also comes with 6 backgrounds that can be used.
Flix previews
Mira la pagina Flix para detalles y cambios de configuraciones en Flix.
Nota:Tenga en cuenta que el antiguo (horror) es ahora (aghast).
Smilies
Smilies