Horror/pt-br
From xat wiki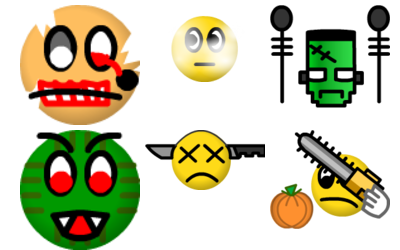 (HORROR)
-
Horror
Flix
LIMITADO
O power HORROR permite que você adicione flix (fundos animados) em seu chat.
Quanto mais powers atribuídos, mais animações flix serão desbloqueadas, alguns dos quais têm opções.
1 power = Flix SKELETON
2 powers = Flix EYES

Opções: 0-3 para olhos diferentes.

4 powers = Flix CAULDRON
8 powers = Flix WITCH
16 powers = Flix BLOOD
32 powers = Flix HALLOWEEN

Opções: 1 para nenhuma abóbora no flix.
Note: The old (horror) is now (aghast).
Este power também vem com 6 backgrounds que podem ser usados.
Pré-visualização dos Flix
Changing Flix settings
Effect: Choose which horror themed flix animation to add to your chat. You can choose from: Skeleton, Eyes, Cauldron, Witch, Blood and Halloween.
Colors: Altera a cor de alguns flixes (nem todos eles são alteráveis). Exemplo: r#g ou FF00FF#0000FF. Você pode visitar color-picker para encontrar suas próprias cores.
Horizontal offset (%): Change how far left or right the flix is placed. Minimum value of -100 and maximum of +100.
Vertical offset (%): Altera o quão alto ou baixo o flix ficará posicionado. O valor mínimo é de -100, e o máximo é +100.
Scale (%): Change the size of the flix. Minimum value of 1 and maximum of 1000.
Background: Change which horror themed background to show on your chat. You can choose from: None, Moon, Web, Haunted, Graveyard, Horror and Halloween.
Option: Change pre-set details about certain flixes. Eyes has options 0-3 and Halloween has an option of 1.
Smilies
Smilies